SuperSaveUK provides an exciting range of home furnishings, Chesterfield Genuine Leather sofas, chairs, dining furniture, bedroom furniture and lots more...
Wooden Beds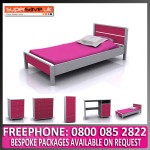 We have a wide variety of wooden bed frames available in a variety of sizes and materials, including pine, MDF and even oak. These bed frames offer fantastic value for money, making them a fantastic addition to any room.

---
There are no products to list in this category.