SuperSaveUK provides an exciting range of home furnishings, Chesterfield Genuine Leather sofas, chairs, dining furniture, bedroom furniture and lots more...
Chesterfield Two Seater Sofas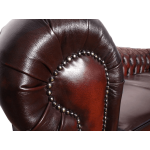 Handmade Real Leather Chesterfield Two Seater Sofas
Here at SuperSaveUK, we offer Chesterfield Two Seater Sofas at highly affordable prices, made using 100% genuine leather. Our luxury sofas are available in a whole range of antique leathers, from a selection of both classical and modern colours. All of our Chesterfield Sofas are made by hand in the UK by our expert craftsmen, using high quality real leather.
For information about our bespoke options, feel free to contact us and one of our team will be more than happy to help.
---
Showing 1 to 6 of 6 (1 Pages)