SuperSaveUK provides an exciting range of home furnishings, Chesterfield Genuine Leather sofas, chairs, dining furniture, bedroom furniture and lots more...
Wardrobes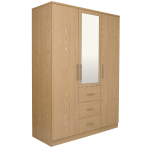 Selection of High Quality Bedroom Wardrobes
We offer a wide range of quality bedroom wardrobes, suitable for any budget. We check our prices against our competitors on a daily basis to make sure that we are giving the best possible value for money.

---
There are no products to list in this category.