SuperSaveUK provides an exciting range of home furnishings, Chesterfield Genuine Leather sofas, chairs, dining furniture, bedroom furniture and lots more...
Blanket Boxes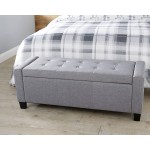 Our bedroom storage boxes and ottomans are the ideal and practical storage solution for every bedroom adding a finishing touch to any contemporary home. Why not choose to shop with us at SuperSaveUK where we provide the trendiest storage options for all rooms.

---
There are no products to list in this category.