SuperSaveUK provides an exciting range of home furnishings, Chesterfield Genuine Leather sofas, chairs, dining furniture, bedroom furniture and lots more...
Chesterfield Queen Anne Chairs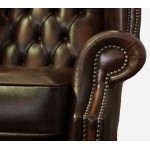 Handmade British Real Leather Chesterfield Queen Anne Chairs
The Queen Anne is a stylish and traditional fire side armchair, ideal for relaxing and putting your feet up. Handmade in the UK using 100% genuine leather by our expert craftsmen, this iconic Chesterfield is perfect in both a traditional or a more modern environment. We also have a range of footstools available to perfectly complement the Queen Anne chair.
Bespoke finishes are available for all of our Chesterfield furniture. For more information you can contact us and a member of our will be very happy to be of assistance.
---
Showing 1 to 6 of 6 (1 Pages)